Slide 1
Manufacturer Approved Repair Centre
Manufacturer Approved Repair Centre
Slide 1
Manufacturer Approved Repair Centre
Manufacturer Approved Repair Centre
Slide 2
Everything We Do Is Built Around the Same Philosophy


To repair your vehicle and return it to its original condition with the least inconvenience to you
Slide 2
Electric and Hybrid Vehicles

Our trained technicians can safely handle repairs to vehicles with high voltage battery and charging systems in accordance with strict manufacturer procedures.


Slide 2
Celebrating Over 21 Years of Mercedes-Benz Approval


Our technicians are fully trained by Mercedes-Benz on the latest repair procedures and techniques using factory specified equipment.




Slide 2
Porters Bodyshop is officially approved by Tesla to ensure the functionality, safety and longevity of your vehicle.




Slide 2
You Don't Choose To Have An Accident...
But you do have the right to choose who will repair your vehicle...
Your Car, Your Choice




Welcome to Porter's Bodyshop
Leading the field of car body repair, located in Portadown, County Armagh, Northern Ireland.

Porter's Bodyshop pride ourselves with operating the most up to date body repair workshop / manufacturer approved accident repair centres in Northern Ireland with the highest standards of efficiency and skills, gaining approvals from major motor manufacturers.
Our purpose build repair centre is equipped with the latest technologies required to estimate and repair your vehicle to the manufacturer's specifications. Feel free to contact us if you require advice or assistance with any aspect of body repairs or the procedures necessary after an accident.
Call Us First!
028 3835 8485
In the event of requiring accident repair or minor body work, contact us first, before your insurer, to ensure your vehicle is repaired at our fully approved & equipped repair centre.
Your Car ... Your Choice
In the event of requiring accident repair or minor body work, contact us first, before your insurer.

Lifetime Warranty
We guarantee our workmanship on repairs, giving you peace of mind for as long as you own your vehicle.
Repair Estimates
Request an estimate online for repair of damage to your vehicle. Upload photos and details of work required.
LATEST
POSTS

FROM OUR BLOG
If you require recovery of your vehicle following an accident,
we are available 24 hours a day by calling:
028 3835 8485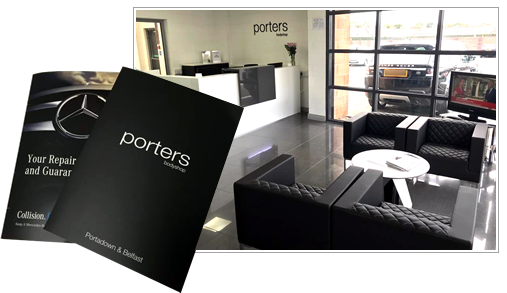 Established in 1970 Jim Porter has seen a vast change in the crash repair industry over the past 51 years.
Improvements in vehicle manufacturing procedures and repair technologies are now an ongoing trend.
To facilitate the necessary equipment and increased repair volumes, Jim moved to Church Street, Portadown over 30 years ago.
Manufacturer ApprovedState Of The Art Accident Repair Centre
Today, following a state of the art rebuild, Porter's premises are now one of the most up to date and established family run car body repair workshops in the whole of the UK.
WHAT OUR CUSTOMERS SAYTESTIMONIALS
"A very professional and friendly body shop. I was kept up to date with the whole process and asked if i wanted to inspect the car at various stages of the repair. I would have no problem recommending Porters.
Reception staff were great and the coffee is good. Andy and Chris dealt with the repair of my car and were very professional and the attention to detail was fantastic"
VW Customer
"Dear Sirs
On behalf of my husband and myself these few lines are to thank all the members of your staff who helped us in every way when we had occasion to leave our car CXZ 4291 in for repairs, Jackie at Reception, Robert Jefferson and I think it was Jim in the workshop and the man who kindly collected and delivered the car back to our home address. Everyone went out of their way to help us and their kindness and consideration are much appreciated.<br>
The repair to the car is first class and we just wanted to record our appreciation. Again many thanks."
Yours faithfully
Dorothy Cox (Mrs)
"Dear Porters,
Just a note to say thank you very much for the excellent repair work carried out on my car (Mazda).
I was pleased at your efforts to have it ready in time for the M.O.T test and appreciate having it washed and ready to go also!
Thank you again."
Jessica Wightman
"Dear Mr Porter,
This afternoon I collected my car from your body shop following repairs to the driver's door.
I simply want to thank you and your staff for the excellent service I received and for the quality of the repairs, I found everyone extremely helpful and friendly.
I hope I don't have the need to call on you again but I would have no hesitation on recommending you to anyone who needs bodywork repairs.
Thanks again."
Kenneth Crooks